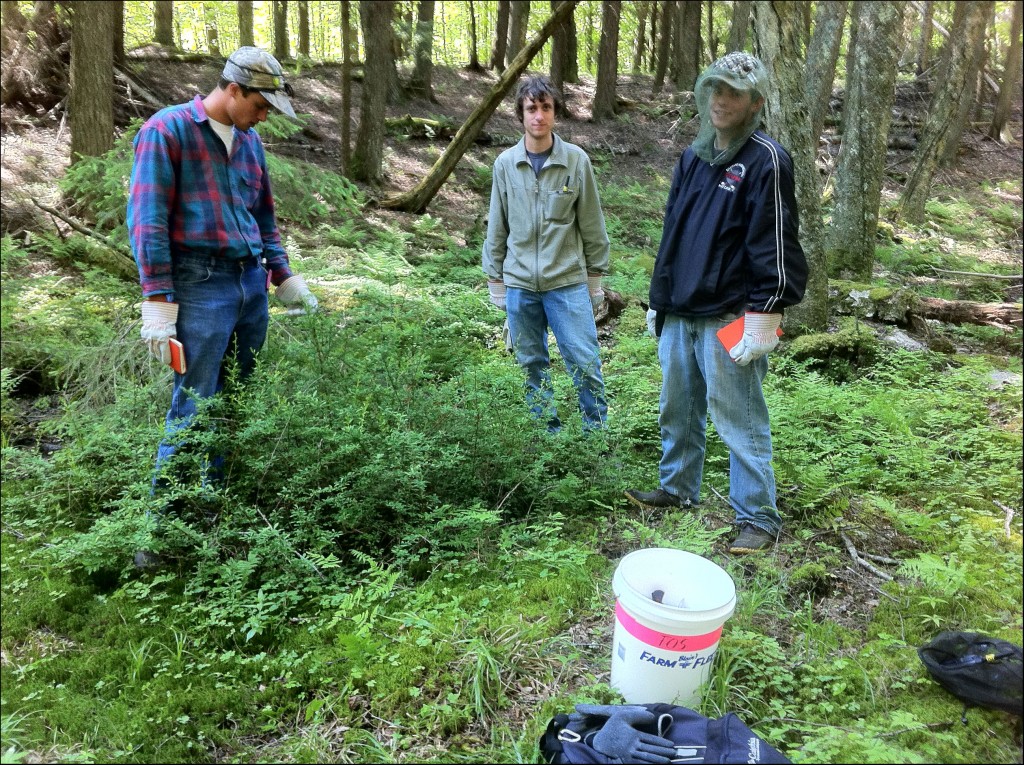 6/12/2011:  The interns find the first very large Japanese barberry bush (from left to right: Derek, Drew, Ben)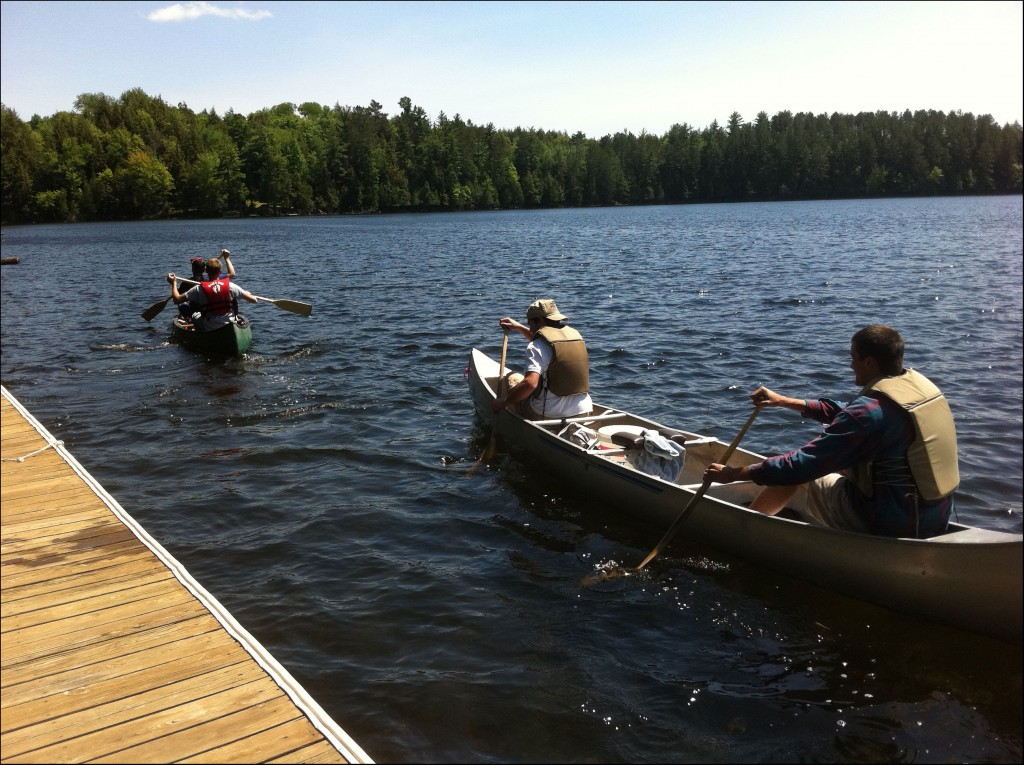 6/14/2011: Derek and Ben assist the Forest Service in the removal of Eurasian water-milfoil from Crooked Lake (north bay)
7/15/2011:
A picnic at the day-use building after a day of hard work pulling thistle (from right to left: Drew, Derek, Derek's parents, John, Tom, Ben, Wally)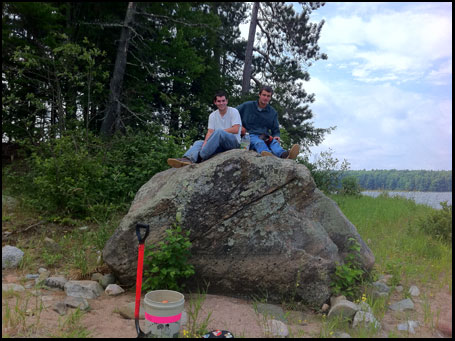 Ben and Derek taking a brief rest while searching for thistle along the shore of Clark Lake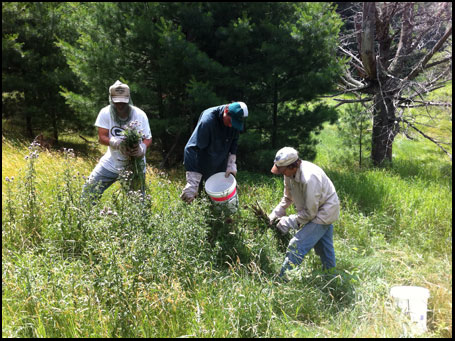 Ben, Derek, and Drew pulling European swamp thistle on Clark Lake (south end)
Drew, John, Ben, and Derek having lunch on Clark Lake South Beach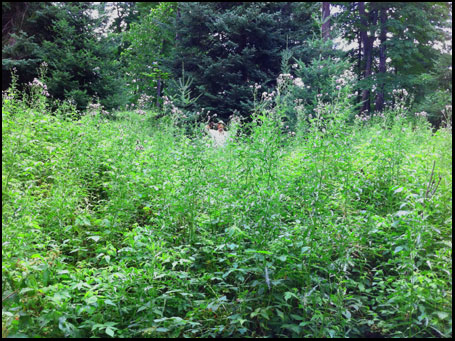 A small portion of the the enormous thistle patch on top of the hill that makes up Raspberry Island (Dan can be seen in the distance).  The vegetation between the viewer and Dan is almost solid thistle.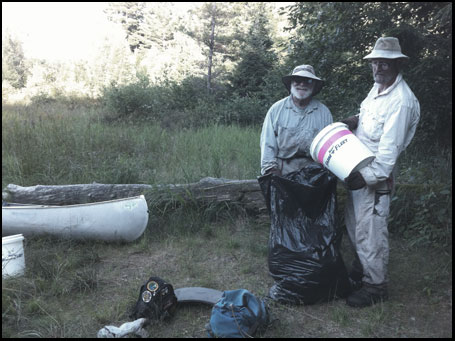 John and Dan consolidating the content of the pails (thistle flowers from Raspberry Island) in a plastic bag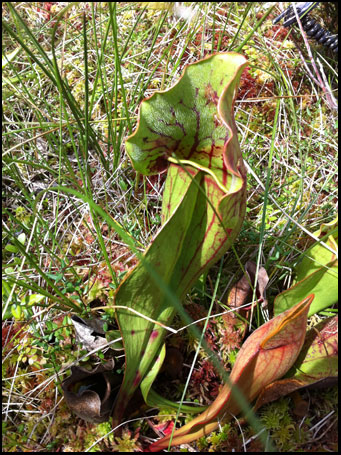 Pitcher plants (Sarracenia purpurrea) grow in many of the bogs in Sylvania.  This one is growing along the shore of Louise Lake.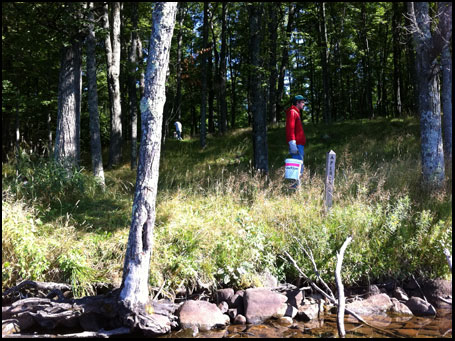 Our search for invasive plants along a lake shore is usually done by 3 people: 2 on land (one close to the shore, the other a littler further inland).  Here is Derek walking along the shore of Whitefish Lake while Ben, in the background, is checking among the trees.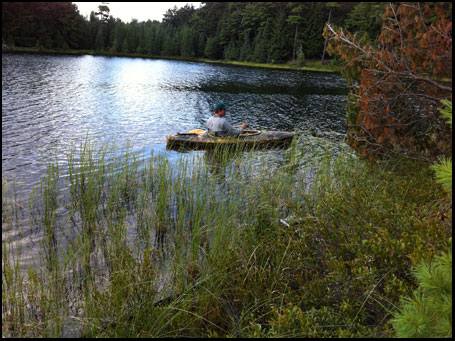 The third person is paddling a kayak or canoe.  Here Derek is paddling his kayak along the shore of Katherine Lake.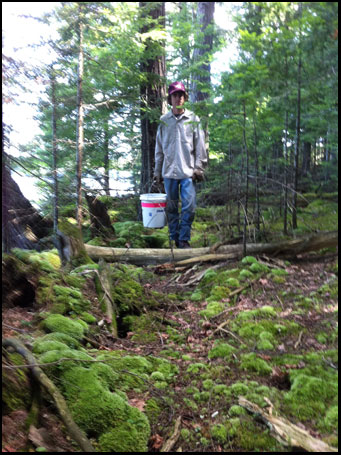 Walking along the shore is sometimes like walking in an enchanting forest with extensive moss carpets and some fallen trees (Drew at Katherine Lake).
Sometimes walking along the shore is pure misery because you have to fight your way through dense, chest-high shrubs that tear the clothing (Drew at Katherine Lake).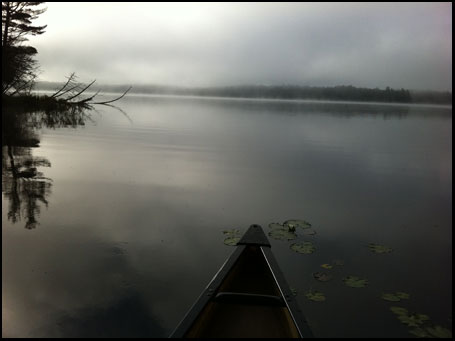 Fog on Whitefish Lake.
The fog began to lift as we started our search for thistle on Whitefish Lake.
Tom at the northern end of the Clark/Loon Lake portage, returning from Deer Island Lake where we removed thistle from Raspberry Island.